---
A Thousand A Year (1991)
(The MOTHER, DAUGHTER and GRANDMOTHER sit in a row on three blocks with their backs to the audience. They wear characteristic hats (smart). The MOTHER turns round to face the audience and stands up.)
MOTHER
I'm afraid it all happened rather quickly. I suppose an
explanation is in order and I apologise for appearing
weak kneed. My family really aren't worth the bother.
(She sits down and turns back round. GRANDMOTHER turns to face audience).
GRANDMOTHER
Well, at least that's over. Though I must say I think that the
plastic flowers and formica table top were a little tasteless
for someone with so much money. And why we couldn't have
it all at once I don't know. Still…a thousand a year…it's better
than nothing I suppose.
(DAUGHTER turns round to face audience)
DAUGHTER
Honestly, Granny, it was a will reading at Belton Court of Law,
not Buckingham Palace. I liked the floral decorations.
(DAUGHTER turns back again)
GRANDMOTHER
Yes, and I s'pose it was only my brother. You may think I'm
heartless, but we didn't get on. Even as children he was always
the first one with the lollypop.
(GRANDMOTHER turns back. MOTHER turns round to face audience)
MOTHER (apologetically)
She never did like Uncle. Neither did I, to be honest. He was
always rather slimy. He kept putting his hand on my knee.
(MOTHER turns back. DAUGHTER turns round)
DAUGHTER
I used to call him Great Uncle Scrooge. He was the kind of man
who would give you 50p and then tell you not to spend it all at
once. (Smiles) Still, a thousand a year, brilliant! I'll spend it all
on River Island stuff. Steve's favourite colour is blue.
(DAUGHTER turns back again. MOTHER turns round)
MOTHER
She doesn't seem as excited as I'd have expected. A thousand's a lot
for a teenager…Maybe it still hasn't sunk into her brain yet.
(MOTHER turns back again. GRANDMOTHER turns round)
GRANDMOTHER
My granddaughter's not the only one with a head like a sieve. All my
children are the same. My son was shot in the leg at the start of the 'Nam…
he was in the catering corner. I guess the Batalion Pals didn't like his grub.
And my daughter here, married to Henry Smythe when she was scarcely
seventeen. He died. Tried to get out of his chair to change channels as the
remote was broken, and the shock of exercise killed him.
(MOTHER turns round to interrupt)
MOTHER
Mother, that's not true (to audience) My husband died of
stagnation two years ago.
(MOTHER turns back again)
GRANDMOTHER (sniffs)
Bone idleness.
(GRANDMOTHER turns back. DAUGHTER turns round)
DAUGHTER
I dunno really. It's all such a shock. I din't really know my Great
Uncle too well. We just kind of met, well at birthdays and Christmas
and…well, funerals and stuff - like he was this dark ogre that
occasionally slipped me money. A quid if I was lucky.
I'm not so sure about spending it on clothes. Maybe I can finally move
out of this hell-hole and rent my own flat in South Kensington.
(DAUGHTER turns back again. MOTHER turns round to face front again)
MOTHER
Well, there's no question about what I'll do with mine. I'm going on
holiday.
(GRANDMOTHER turns round to front, horrified)
GRANDMOTHER
Oh no! You can't do that! You've got to stay and look after me!
MOTHER (wearily)
I know. But I feel…it's time for a change. It's amazing really…
no-one liked Uncle - he didn't like us.
(MOTHER turns back again. DAUGHTER turns to front)
DAUGHTER
Let me see the letter he wrote, Granny.
(GRANDMOTHER reaches into handbag by her side and removes letter, gives it to her, then turns back round)
DAUGHTER (reading letter)
Hmmm…hasn't he got nice writing? Hang on…how could
you not have noticed this…a thousand a year…but it says it
in pence!
(MOTHER and GRANDMOTHER turn to face the front, shocked)
MOTHER & GRANDMOTHER
Oh!!
(All turn back round. MOTHER turns round to front again)
MOTHER
Which would you rather have, mother? A rich man or
a thousand a year?
(GRANDMOTHER and DAUGHTER turn round to front, each holding a £10 note. MOTHER stands up and steps forward. GRANDMOTHER and DAUGHTER take block to the back of the stage.)
MOTHER
That was it, then. There were no tantrums, just cool,
clear thinking. I kept a calm head. I needed that money…
and I needed that holiday. There was just one alternative for
extra income. One of them would have to go. My daughter had
nothing, not a Beano.
DAUGHTER (interrupting)
Actually, you're wrong there, mother. I had two "My Guys" and
a "Fast Forward."

MOTHER (continuing)
Anyway, that just left me with mother. Her two up two down in
Kilburn would fetch enough for a couple of weeks.
(GRANDMOTHER steps forward)
GRANDMOTHER
Is the aforementioned allowed a few words here? Yes, well I'd just
like to say that I was shocked and disappointed by the
behaviour of my daughter. I mean how could she treat me like that?
MOTHER
Mother, you had to die.
DAUGHTER
Yeah, you old trout.
(GRANDMOTHER sniffs)
MOTHER
You did not understand the complexity of the situation. I had to go
or I would have lost him.
DAUGHTER
Who?
(MOTHER tosses head and looks away from DAUGHTER. DAUGHTER steps forward)
DAUGHTER
No…oh mother, he's nineteen and he's my boyfriend…
MOTHER
Yes, he WAS your boyfriend.
DAUGHTER
How embarrassing, my mother's a cradle snatcher. Mother,
you're old enough to be HIS mother.
GRANDMOTHER
This is beside the point. The point we're discussing is murder…I
was nearly murdered.
DAUGHTER
How did you plan to do it, Mum? What went wrong?
MOTHER
I didn't realise it was a Tuesday. Tuesday's bridge night. I had
slipped rat poison into her early evening coffee…she left without
drinking it.
DAUGHTER
Tuesday? But that was when…Steve came round. He said he was gasping.
MOTHER
For coffee? Yes - it rather defeated the object. I had done it all for the
holiday with him…but now…
GRANDMOTHER
He was dead. Stupid boy. I never liked him anyway…overpriced lawn mowing
type of child. I suppose it's what you might call a blessing in disguise.
DAUGHTER
I suppose he was a bit of a snob…
MOTHER
…but I loved him!
DAUGHTER
So did I!
GRANDMOTHER (sniffing)
You're just as well without him.
MOTHER
That was how it happened…and now for you, the members of the jury to
decide: manslaughter or murder a thousand times over…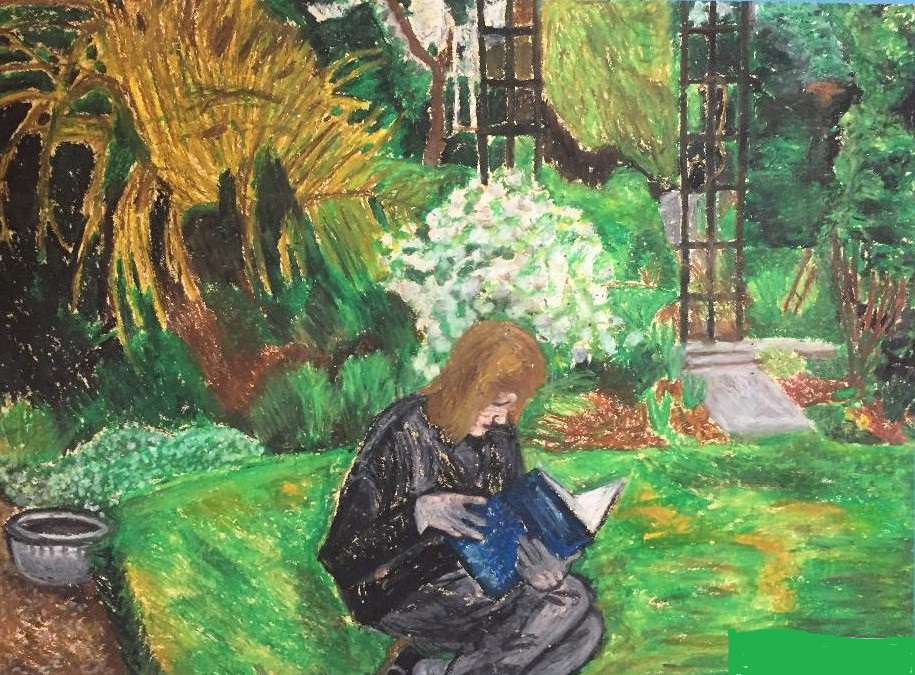 ---
---