Home
My Life
My Work:
Robin's Early Works (1983-97)
The Romulus and Remus Complexes
Kings of Hollywood (Screenplay)
Medium Everything: Collected Writings
Buy my Work
Tribute Gallery
Links
Contact Me
---
Tribute Gallery
A little homage to some of the people who have inspired and enriched my life (and work) thus far…
Joan Obee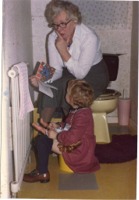 My granny, the first and last person who was ever truly proud of everything I did (other than dropping the "Obee," of course). Who else would keep the "candle" I made out of a loo roll at the age of six for years, and happily display it on the mantel every Christmas? No-one appreciates you like a grandmother – if you have one, cherish her.
Simon Obee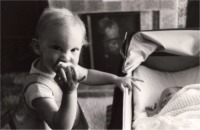 My younger brother, who saved me from being a "lonely only," an enthusiastic collaborator whose creativity and wit enlivened many a boring camping holiday in France (I would post "Amanda and Simon's Exelent Adventure" - in which two siblings travel through the past collecting famous historical figures and swapping them with one another – on my "Early Works" page, but I fear the trade-off between Adolf Hitler and Jesus would offend too many). You go, boy!
Russ Tamblyn
One of my favourite actors from childhood, responsible for both half of my stage name and the talented Amber Tamblyn. Long may he prosper…
Alexei Sayle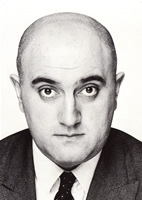 Briefly my penpal in the early '90's, who helped me through some troubled times. Alexei, I wish I'd kept more of your letters…One of the reasons I chose to do my degree at LJMU was because I (foolishly) hoped that all Scousers were like you. Never met him. Didn't need to.
Raymond Burns
My first everything.
Ralf and Michael Schumacher
Formula One's dynamic duo, the case study subjects for my psychoanalytical study of sibling rivalry The Romulus and Remus Complexes and the models for Velocity's Ricky and erm, Michael – the only pair of brothers to have both won a Grand Prix. Things just weren't the same after Big Brother left the sport. To paraphrase my novel, F1 without Schuey is still F1, but having him there made it something special. Keep fighting, Michael!
Kevin Spacey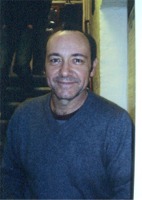 Without Mr. Spacey's dark genius there would be no Medium Everything, no King of Hollywood and probably a lot less coupling. Look Closer, why don't you…
Randy B. Fowler
Kevin's brother, who proves you don't have to be a Star to be a star. Thank you, Randy, for your kindness, your honesty and your courage, and of course for my damn fine model of "Jaws."
David Leavitt
The literary Spielberg. Prose so good it can draw tears with one sentence. "The Lost Language of Cranes" – it's not poetry. It's pure poetry. And he wrote it when he was twenty-five…bitch!
Paul Monette
To paraphrase Hannibal Lecter, "the world was a more interesting place with you in it." Want to "convert" a homophobic neighbour? Give him/her a copy of "Becoming A Man" - they'll be a paid-up member of GLAAD in no time. (I'm told this even works on parents!).
Bruce Campbell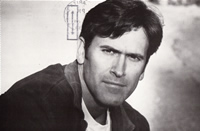 Probably the nicest guy in Hollywood, who answers every fan email he receives and gave me some invaluable assistance with my university essay "Discuss the portrayal of 'Ash' in the Evil Dead trilogy in relation to other films of the horror genre which present a female victim-hero." (I got my highest-ever grade for that one). He's great in Spiderman 2, too…
Honourable mentions
For David "Young Musician of the Year" Pyatt, who inspired me to take up playing the French Horn, and for Tamsin Foreman, who made me realise (six years later) that music really wasn't my forte. And for Gemma and Susie, who helped me drag/carry/pull the darn thing to school all the times in between. Sorry guys!
For Malcolm Harrison (where are you now?), the first boy I ever fantasised enough about "dating" to write a story about. And for James Crabtree, who knew wayyyyyyyyy more about what went on between men and women than any other under-ten I ever met (and repeated all to me).
For "ß," who introduced me to the joys of international email and who made the cover of Medium Everything a real talking point. Danke, schon.
For Martin Gore of Depeche Mode, who intrigued me enough to begin my first artistic forays into gay culture (erm, even though he's straight).
For C.H., my first "serious" writing partner. The brains (or half of 'em, anyway) behind "Effortless Salmon: The Tupperware Tragedy" and "Baked Beans For Guy." Two plays, two competition-winners. Want to try for a Tony with number three, C.? (Trilogies are so "in"!)
For Mr. Krisson, my teacher at Cassiobury Junior School, who sparked my interest in horror novels (by reading extracts from "Misery" to his class of ten-year-olds), my vegetarianism (twenty years and counting, sir), my dislike of maths (times table squares every morning) and is the only teacher from Cassiobury whose first name I can remember (it's Mark). Also the headmaster, Mr. Haines, who once called me a "prima donna" in front of the whole class. (I had to look it up in the dictionary, and was quite flattered).
For my friends and colleagues at the RPA, where I spend at least one-quarter of every weekday. Terry – where would I be without your cheery smile (or is it grumpy scowl?) to greet me every morning? Phil – you never took me out to discuss Velocity. Dave – I miss your "sports prep" stories. Tim – I miss your hair.
For all the professional scribes – Christian, Matthew, John, Aaron, Michael – who were kind (and patient!) enough to read through early drafts of my novels and give me feedback - special thanks to Mark Kendrick for his very thorough "de-Britishization" of King of Hollywood.
For my grandfather, Keith Obee, with whom I watched my first Formula One race and who could build absolutely anything us kids wanted to play on – we still have "Wilma" the go kart in the garage. For my maternal grandparents, Frieda and Herbert, and all the other members of the Obee, Hearle and Tearle clans who have passed on. For all the furbabies I have mummied over the years - Cleo, Katrina, Kalahari, Phantasia and Quincy Jones. And finally, for my parents, Robert and Melanie – without them, I really wouldn't be here. Nuff said.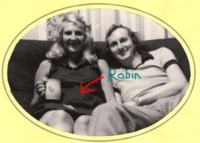 ---